The Medieval Week is Sweden's largest historical festival. Every summer, the past is brought to life on Gotland for eight days. Welcome to the world's best medieval experiance!
Get your festival band
Programme & tickets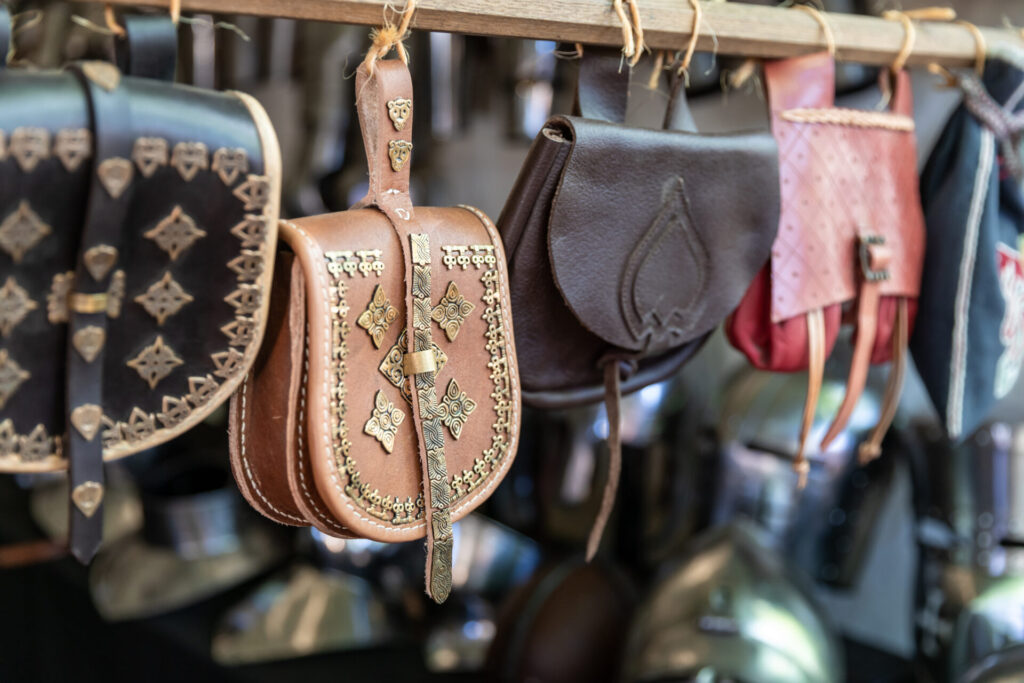 Photo Annie Brickman
We are celebrating our 40th anniversary!
This year we are happy and proud to celebrate the anniversary of the 40th festival since the start in 1984. The Medieval Week is a co-created festival where you have the freedom to explore what the medieval experiance can be for you. This means that you decide what happens!
Every year several thousand co-creators gather and build a medieval idyll in and around Visby, a UNESCO World Heritage Site, with its medieval ring wall. Together we fill parks and streets with crafts, grilled food, cold drinks and new and old experiences.
The program is constantly growing, and for the anniversary we have over six hundred program items, with everything from courses and lectures, to theater in the ruins, fire shows in the moats, concerts, jesteries, and jousting in the large medieval arena.
The Medieval Week is a multiple winner of the Great Tourism Award and Gotland is one of the country's most loved holiday destinations. This year the theme is Food and Drink through history, so there will be a lot to sample!
When: Medieval Week lasts for eight days, from Sunday to Sunday, August 6-13, 2023. You can find the full program here!
Where: Most of the activities take place in Visby, but also in Gotland's countryside. Here below you will find a map!
How: Festival Bands can be found on our website, and the tickets here in our programme.
What: Medival week is a historical cultural festival, outdoor in ruins, the streets and parks, and indoors at museums, churches, conference halls and medieval taverns.
Accommodations: Our modern and medieval campsite is within walking distance!
Weather: Gotland has more sun hours in the summer than most of the country. Prepare with water and seek out shade. There is also chance for wind and rain, so pack for shifting weather conditions. As most of the festival is open air, many shows continue even if there is a drizzle. The tournaments will pause should there be risk of lightning. Typically the summer rain is short and soon there is sun again and perhaps a rainbow.
Get your festival band
Programme & tickets
How does it work?
Get the festival band and pre-book tickets. It's also fine to just show up and we'll help you and your family plan your dream summer in the Middle Ages!
Everyone is welcome just as they are. Many choose to dress up in medieval costume. There are lots of groups on social media that prepare costumes and medieval camping. It is also possible to find coats, shoes and other things at our markets.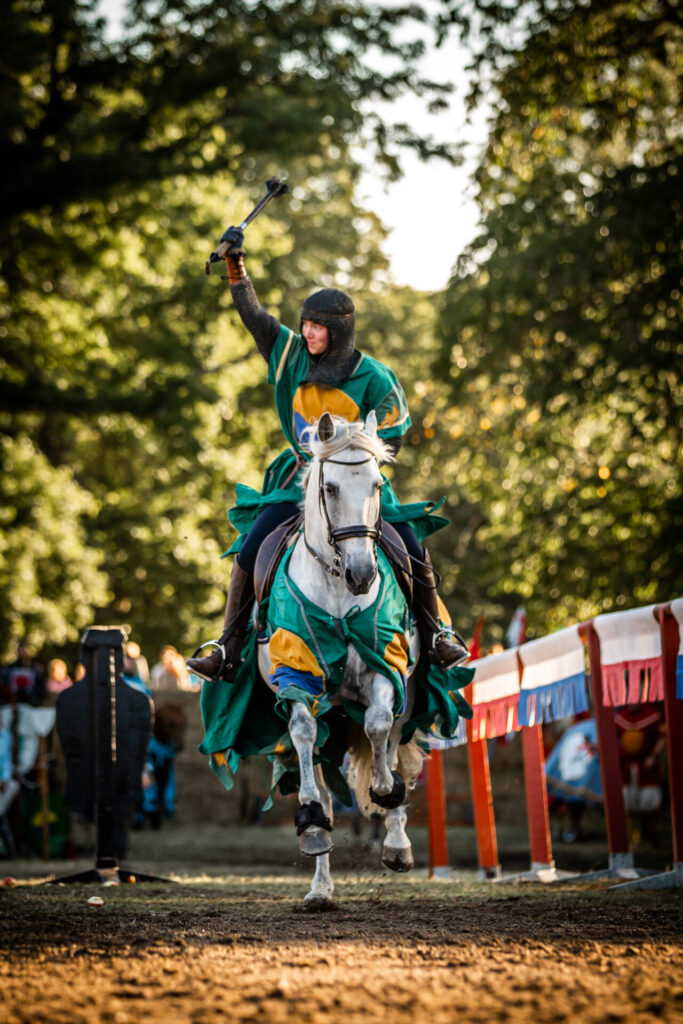 Photo Therese Hübner
Then it's time to just watch knights on horseback, drink something cold, take a crafting course, practice archery, listen to a concert or picnic along the beach, while waiting for some ruin show or performance in some moat! Most things are within walking distance. If you want to be sure of getting a seat at a particular favourite, it is good to book tickets in advance. A lot of program points sell out even before the premiere day.
The tournament with a couple of thousand in the audience is a beloved tradition with Torneamentum's knights and horses and Gutar's archers, national gold winners both.
Jousting tournament tickets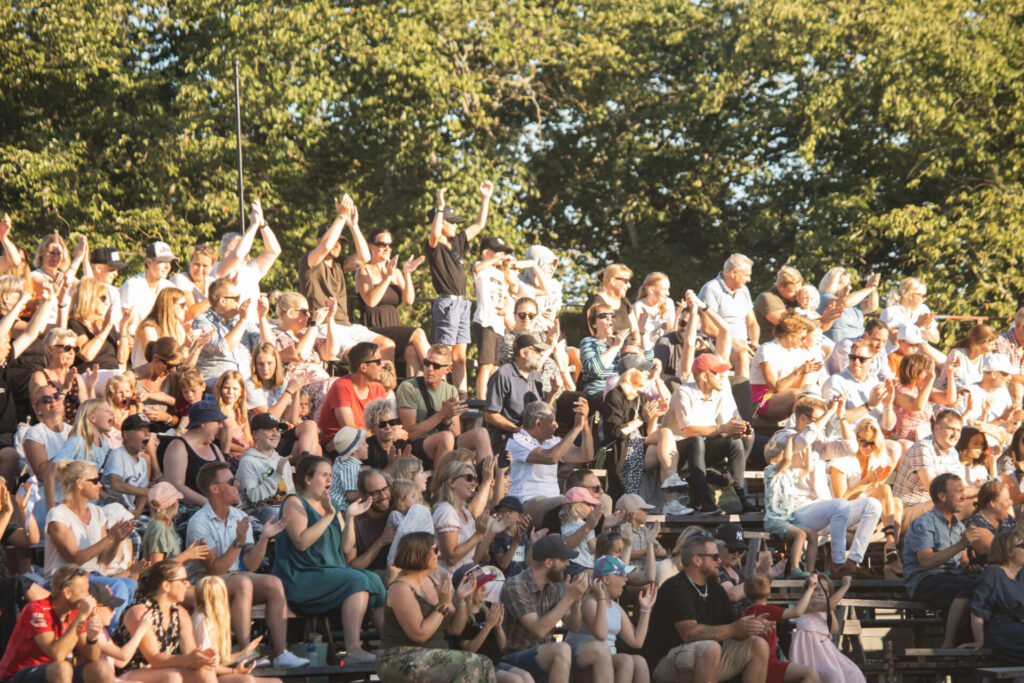 Photo Isabelle MacKenzie
Q and A!
If you have questions, don't hesitate to contact one of our medieval hosts in our Visitor Center during the festival (located at the Botanical Gardens). Or send us an E-mail.
About the Medieval Week on Gotland Foundation
The festival is organized by Stiftelsen Medeltidsveckan på Gotland, a non-profit research foundation for the purpose of public education. The operation is managed by the wholly owned operating company. The aim is to make knowledge of our common history and Gotland's medieval times available to as many people as possible. Any profit is reinvested in next year's operations and research. Founders are Medeltidsgillet, Gotlands bildningsförbund (Gotland's education association), The society of Gotlands fornvänner, Gotlands hembygdsförbund (Gotland's Homeland Association) and Region Gotland.
Over twenty medieval venues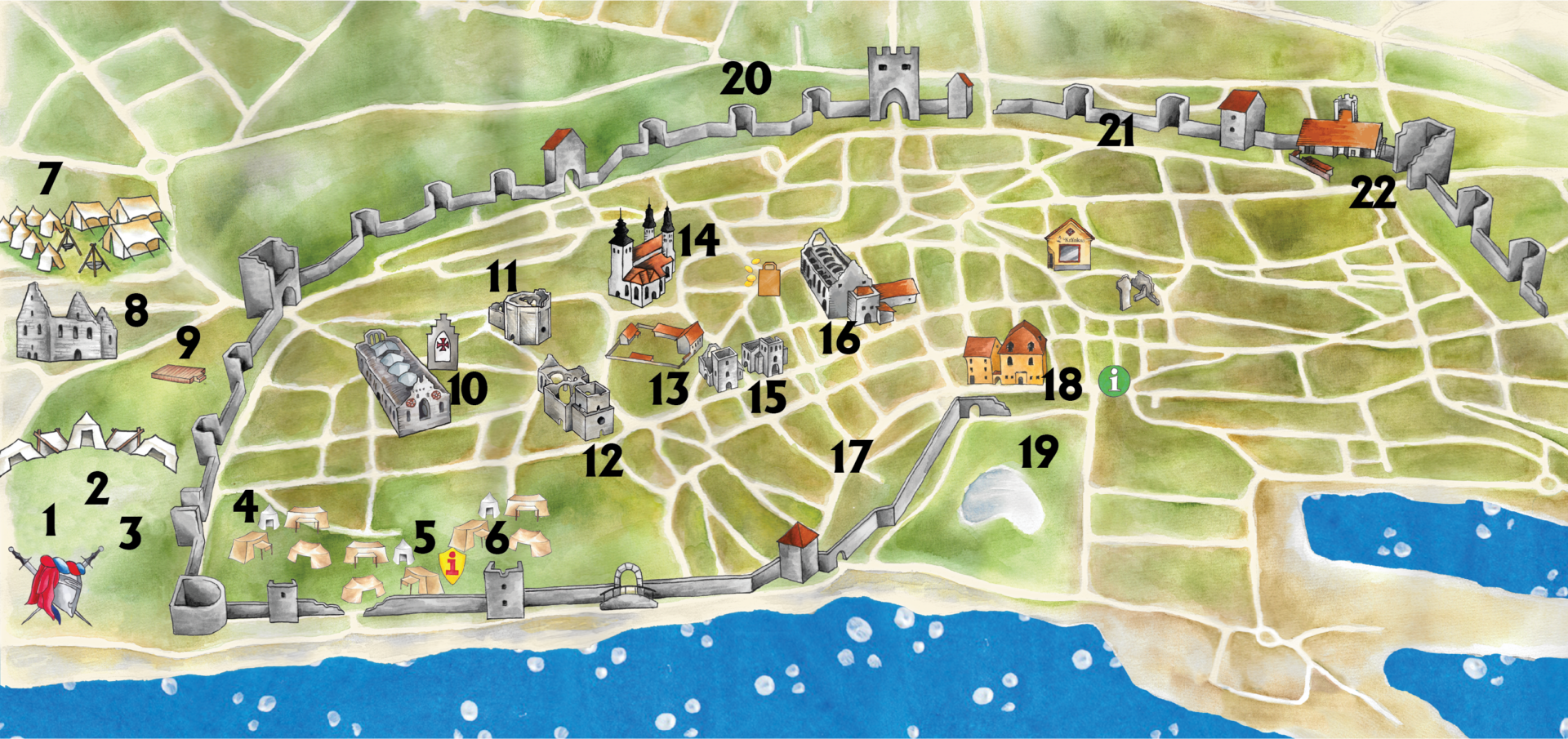 The Medieval arena • Jousting
Jubilee area XL • The XL Stage • The Kitchen Stage • Riddargård (children's area)
Historical Encampment Exhibition • Gästabudsgillet • Gutars Bågskyttar • Stockholmsfänikan • Gantarna • Proknekt etc.
The Handicraft Market • The jester meadow "Gycklar Änget"• Sagoängen
Visitor Center • Paviljongsplan
Food Court • Stage Forum Vulgaris
Medieval Week camp ground
S:t Göran ruin stage
Nordegravar • The Theatre Wagon Teater Teatro • S:t Göran bridge
S:t Nicolai ruin stage • Medieval tavern Bistra Haren & Frimis
Helge Ands ruin stage
S:t Clemens ruin stage
Medieval Tavern Kapitelhusgården • Courses • The Stage Forum Kapitulum
S:ta Maria Church
S:t Lars ruin Stage
S:ta Karin ruin stage • Medieval tavern Klosterlängan • Town square
"The old Apothecary" • Strand Hotel Theatre Stage
Gotland's Museum • Sävesalen • The tourist office • Donners Plats
"Almedalen"
"Hästarnas dal"
"Tjärkokeriet"
The South Square
Get your festival band
Programme & tickets